It is a competitive world of online marketing where every digital marketer is trying to stand out. SEO has become an important tool for businesses to stay ahead of the curve. But with constantly changing algorithms and more competition, knowing where to start with SEO takes a lot of work. That's where mastering the game comes in. If you know and use winning strategies of SEO, you can increase the visibility of your website. You can get more sales-qualified people to visit your website and ultimately increase your bottom line. In this article, we'll look at some of the best ways to do SEO, from researching keywords to building links and beyond. So, get ready to take your SEO skills to the next level.
What are the strategies of SEO?
To enhance your company's search engine rankings, organic traffic, and conversions, it's crucial to create, implement, and maintain a well-crafted SEO plan. An SEO strategy is a method employed by marketers to optimize their content for higher rankings in search results, directing more traffic to their website and ultimately increasing conversion rates. Creating an effective SEO strategy ensures that your content is valuable and attractive to your audience. Rather than producing content based on your preferences, you must create content that aligns with your audience's search queries. This requires producing well-organized and relevant content. However, before diving into how to improve your SEO strategy, it's important to understand the fundamental concept of SEO.
What is Search Engine Optimization?
SEO stands for Search Engine Optimization, and it refers to the practice of improving the quality and quantity of traffic to a website from search engines like Google, Bing, or Yahoo through organic search results.
The objective of SEO is to increase the visibility of a website by achieving a higher ranking in search engine results pages (SERPs) for relevant keywords or phrases. This is accomplished through various techniques such as optimizing website content, improving website structure and navigation, building high-quality backlinks, and analyzing and monitoring website performance data.
The ultimate goal of SEO is to attract more targeted traffic to a website, increase conversions, and ultimately generate more revenue for the business.
Why do you need an SEO strategy anyway?
The trend towards online shopping has seen a global surge, creating a vast market that businesses can tap into. With the convenience of shopping from home for anything from plumbing supplies to pizza rolls, customers are flocking to online stores. For businesses selling physical products or services, it's essential to prioritize the development of an online store and pay close attention to website visitors. A well-designed and well-written website is useless if it doesn't attract any viewers.
To position yourself in the online marketplace, the right strategies of SEO are crucial. A high ranking on search engine results pages (SERPs) makes it easy for potential customers to find you. But, achieving this is easier said than done. If you're a beginner, you've come to the right place to understand how SEO can help your business. If you're a seasoned pro, this is an excellent opportunity to refresh your knowledge of the basics and incorporate them into your SEO strategies. With over half of all website traffic coming from organic search, SEO is essential whether you're a Fortune 500 company or a local mom-and-pop shop.
SEO is particularly critical for B2C platforms, as it helps establish trust and credibility by delivering informative content that attracts high-quality leads to your website. By incorporating SEO strategies, you can boost your website's visibility and attract more customers to your online store.
10 Winning strategies of SEO every digital marketer must undertake.
Over 61% of marketers agree that strategies of SEO are critical to their company's online success. Consequently, on average, 21st-century enterprises devote 41% of their marketing budget to SEO strategies. If you take the time to plan an effective SEO strategy, you will see a dramatic increase in website traffic. And a subsequent boon to your company's success. With the current situation, internet usage has always remained the same. As a result of the pandemic, we watched more movies and TV shows online than ever before. In 2020, SEO became increasingly important for many businesses. And we anticipate that trend to continue into next year. Let's get down to the fundamentals, shall we?
Using the right Keywords
A keyword is a word or phrase that describes the content of a webpage or online document. It is a term that users enter into search engines when looking for information, products, or services related to their search query.
By following these strategies, you can use the right keywords to improve your search engine rankings, drive traffic to your site, and ultimately increase your business's visibility and success online.
Research your audience: Understanding your target audience is key to finding the right keywords. Use tools like Google Analytics and Google Search Console to analyze your website's traffic and identify the keywords that are driving visitors to your site.
Analyze your competitors: Look at the websites of your competitors to see what keywords they are targeting. This can give you ideas for keywords that you may have overlooked.
Use long-tail keywords: Long-tail keywords are more specific and targeted than general keywords. They may have a lower search volume, but they are more likely to convert into leads or sales. Use tools like Google Keyword Planner to find long-tail keywords related to your business.
Use keyword variations: Use variations of your target keywords throughout your content to capture more search traffic. For example, if your target keyword is "best running shoes," use variations like "top-rated running shoes" or "running shoes for beginners."
Avoid keyword stuffing: Keyword stuffing is the practice of overusing keywords in your content to manipulate search engine rankings. This can result in penalties and lower search rankings. Use keywords naturally and in a way that adds value to your content.
Optimize your content: Once you have identified your target keywords, optimize your content by including them in your headlines, meta descriptions, and body copy. However, make sure to prioritize user experience and readability over keyword density.
Continuously monitor and update your keywords: Keyword research is an ongoing process. Keep track of your search rankings and adjust your keywords as needed to stay competitive.
Produce Content of Superior Quality
Using your marketing skills, develop content that will pique the interest of your audience. While also providing them with something of value. Answering your customers' inquiries, giving them actionable insights, and educating them to help them become better at their jobs are all examples of valuable content. Remember to add relevant keywords to the great content you're producing. You shouldn't overstuff your pages with keywords to boost your site's search engine rankings. Your search engine rankings will stay the same as a result. However, that won't make a good impression on your site's visitors. Why would anyone want to read repeatedly, "Are you looking for the best beef burger? The search for the best beef burger can end here. It's easiest to know about the best beef burger from our website. Write as though you're talking to a genuine person.
Sharing your insights and experience with your target audience is a key part of content marketing. It's an effective strategy for attracting new customers and establishing your company's credibility as an industry leader. Your keyword investigation will lead you to fresh material ideas. Using these terms as a springboard, you may develop the kinds of in-demand articles your target market wants to read. Videos, blogs, infographics, articles, and ebooks are just a few examples of the different content types. Use a wide range of these presentation styles to keep your material interesting and engaging. The "people also ask" section provides insight into related questions. It's a fantastic resource for sparking new ideas as you shape your writing. It is one of the most demanding strategies of SEO and a starting point for optimization.
Consistent content publication is one of the crucial strategies of SEO. One must always work to attract customers by putting themselves in front of the target market. The longer visitors spend on your site, the more likely they will convert into paying customers. It is because of the high quality and depth of your content. You should aim for regular and frequent publication of your material. Google will interpret this increased time on site as indicating that users find the content appealing. It will lead to a rise in the site's ranking.
Plan out how you will acquire links.
Creating a comprehensive plan to acquire links is a crucial step in improving your website's search engine rankings. While the subject cluster model is an effective on-page SEO strategy, off-page SEO primarily focuses on building links. Link building, or link acquisition, involves creating links to your site from other resources on the web. The higher the authority of the site linking back to your content, the greater the impact on your search engine rankings.
To acquire high-quality backlinks, consider developing a range of strategies. Writing engaging blog articles and promoting them through social media is an effective way to start. Additionally, an effective way to acquire backlinks is to reach out to other blogs and ask for guest posting opportunities.
Keep in mind that earning organic backlinks takes time and effort. By creating high-quality content that matches user intent, other sites in your industry will naturally link back to yours. This process can be accelerated by contacting other websites and requesting link exchanges. However, it's important to remember that the quality of your content is the key factor in attracting organic backlinks. By consistently producing high-quality content, you will increase your chances of acquiring valuable backlinks and improving your search engine rankings.
Enhance the User Experience
Increasingly, factors other than site content are being considered to determine a site's high position in search engine results. Traditional ranking indicators are still important, but SEO is shifting towards a focus on the user experience. Ensure each link on your site is active and leads your visitors to the content they were hoping to find by working with your web developers to provide a user-friendly and intuitive interface. Having visitors spend more time on your site indicates to search engines that they found the content there useful. Designing with the user in mind will ensure they stay on your site longer.
The first step is to design a user-friendly navigation system for your target demographic. Visitors will spend more time on your site if it is well-organized and simple to navigate. A well-organized site means visitors can quickly locate the content they're looking for and stay on your page for more. Visitors will only leave if they work hard to find what they want. You can lose leads if they need help navigating your navigation bar. Use broad headlines to simplify the site's navigation. You can then use these high-level categories to divide your content into more specific ones further. With this structure, your viewers will have a simpler time navigating your site and locating the required information.
Incorporating graphics and headers into your content is a fantastic way to enhance the user experience. Headers help to break up your text into easily digestible sections that readers can quickly skim through. Additionally, incorporating visual elements like images and videos can capture the attention of your audience and keep them engaged with your content for longer periods of time. By including these design elements, you can provide a more enjoyable experience for your target audience, ultimately leading to longer page visits and increased engagement.
Set up a blog.
Blogging is a great tool for increasing your site's visibility in search results and attracting new visitors. After all, search engine optimization (SEO) potential grows with each new blog article. Consider starting a company blog if one does not already exist for your company. It is one of the most effective strategies of SEO to start blogging and producing quality content. However, Google no longer gives much weight to exact keyword matches. So, you shouldn't utilize your long-tail term more than three or four times on your website. Search engines will penalize you if they see evidence that you used keyword stuffing to improve your ranking. Second, direct readers to the topic-specific "pillar" page you developed whenever possible. Tags in your CMS (content management system) or plain old anchor text within the article are two ways to achieve this.
Linking each blog post to the subtopic's parent pillar page is also one of the Strategies of SEO. Connecting the pillar and cluster shows Google that the long-tail keyword relates to the topic you're trying to rank for. You must also set a certain blogging schedule. You shouldn't group all your blog entries or website pages under the same umbrella. Write on interesting topics to increase your credibility with search engine ranking algorithms. Writing about unrelated but catchy topics that your target audience cares about is also a good idea. As such, post to your blog at least once weekly.
It's important to keep in mind that the primary audience for your blog should be human readers, not search engines. With this in mind, you should write your content in a way that is engaging and informative for your readers, rather than solely focusing on optimizing for search engine algorithms. By prioritizing the needs and interests of your human audience, you can create content that is both valuable and enjoyable to read, leading to increased engagement and a stronger following for your blog.
While search engines like Google are continually evolving and improving, trying to game the system with tricks and shortcuts is not a sustainable or reliable approach. Instead, focus on creating authentic and interesting content that resonates with your readers. This approach will not only improve your search engine rankings but also foster deeper connections with your audience, leading to long-term success for your blog.
Prepare material for highlighting featured excerpts.
These days featured snippets are all but the law on search engine results pages. Even if you have never heard the word, chances are you're already familiar with them. The highlighted response boxes often appear at the top of search results pages. Gaining a position as a highlighted snippet indicates your work is appreciated. Using bullet points, lists, infographics, and providing direct answers to question-based queries are just a few examples. It is how you can improve your chances of selection as a featured snippet. However, according to research, snippets sometimes lead to direct clicks. Because the search query is answered in the Google preview, snippets still appear in over 19% of SERPs. They effectively put one's name and product in the public eye. It means that people will continue to click.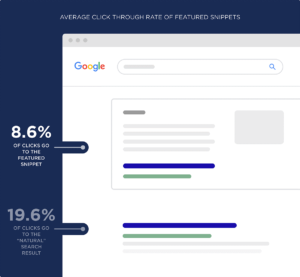 Use adaptive layouts to enhance your UX.
You need to include responsive design as strategies of SEO alongside user-friendly design. Your audience may use different types of mobile and desktop devices to view your website. Make sure your site displays properly across all devices. When you build your website with responsive design in mind, it will automatically adjust to the screen size of the visitor's device. Visitors will enjoy using your site regardless of whether they access it from a mobile device, tablet, or personal computer. It will optimize users' experience on your site for their devices. The displays on these gadgets range in size. You shouldn't check out the mobile site on a desktop computer, and vice versa. You can use responsive design to make your website compatible with any screen size.
As one of the successful strategies of SEO, your audience will like using your website more if you adopt a responsive design. It will entice people to stay on your website longer, enhancing your SEO rankings.
Improvements to Voice Search
Optimizing for voice search is an integral part of any SEO marketing approach. Using a user's voice to initiate a search is a relatively new phenomenon. Every month, there are more than a billion voice-activated searches. This search type quickly becomes one of the most used ways to find specific details online. You need to ensure that potential customers looking for your company on these devices may find it. Understanding how consumers do voice searches is essential for optimizing it. Users change the wording of their queries while searching by voice. People frequently ask queries in the form of searches when they inquire aloud. Many people are turning to voice search gadgets to get a quick response.
If you want your business, products, or services to rank higher in voice search results, consider the kinds of inquiries consumers might ask. Moreover, optimizing for slang is particularly important because your target audience may use it when searching with their voice. When people voice search, they are more likely to utilize slang since they are talking. If you want to target consumers who conduct searches by voice, optimizing for slang terms is essential. When you optimize for voice search, more customers looking for what you provide will find you. It's one of the excellent strategies of SEO for expanding your exposure to potential customers.
Follow the progress of your content and see how well it performs.
It is crucial to monitor the efficacy of your SEO approach when managing a campaign. You should only put resources into a campaign if you're willing to devote time and energy to optimizing it over time. Google Search Console and Google Analytics play a critical role in your SEO roadmap. You may learn a lot about your SEO strategy and how to make it more effective by analyzing your analytics data. Any web analytics tool will do for tracking organic visitors. You may measure your progress and discover areas for improvement by keeping tabs on indexed pages, conversions, ROIs, and search engine results page (SERP) ranks. You can also make your dashboard using Excel or Google Sheets.
Views, dwell time, and sales are just a few metrics you can monitor. Thanks to all this data, you can learn a lot about your campaign's performance and customers' habits. You can improve your strategies of SEO using data on how well your campaign is doing. It's easy to spot the weak spots in your campaign and fix them. As you look at the data, you can adjust your SEO marketing plan, yielding greater results. Find a tool that fits your requirements and price range.
Streamline the current material and fill in the gaps with new information.
Remember that there is always room for improvement in your strategies for SEO. Due to the need for constant updates and the need to fight off competition, you will always need work to do. And you can always strive to improve. To use SEO effectively, you must revisit and revise previously published content to include relevant keywords and backlinks and improve readability. If you regularly update your best-performing pages, you can ensure they continue to attract visitors and even increase their audience size.
Building a long-term content strategy based on your keyword research is a nice chance. It could uncover some of the most relevant phrases to target in the first place. Each keyword should lead to many related ones, which should spark more topics to write about. Create a foundation article that can serve as the basis for many more articles that delve deeper into the topic. Using software like SEMrush and Yoast, you can conduct a thorough content audit. Adding and updating old content can double your traffic. Remember to make it as evergreen as possible and use internal and external linking.
Getting a high position in search results pages is challenging, even though focusing on keywords with a large volume of search engine traffic while developing content is tempting. There may be better approaches for achieving your company objectives. For better marketing results, it's best to develop an SEO plan. You should create strategies of SEO that cater to your company's requirements. For example, expanding your consumer base.
Conclusion
In conclusion, to master strategies of SEO, you need to know everything about SEO. These include the latest trends, techniques, and search engine algorithms. SEO strategies that work include making high-quality content that meets the needs and interests of your target audience. It involves building a strong online presence through link-building and social media. Also, optimize your website's technical parts to improve its search engine ranking. Anyone can learn the skills and knowledge they need to succeed in SEO and reach their online marketing goals if they are dedicated, work hard, and keep learning.